Lord of Life Lutheran Church
9420 Portage Road
Portage, MI 49002
Phone: (269) 327 6565
Email:
lordoflife9420@att.net

Headsets are available if your hearing aid does not have a telecoil.
An ELCA Congregation
where all are welcome
Pastor: Rev. Joan M. Herbon
WORSHIP SERVICES
Service time change for 2016
November 27, 2016 - April 9, 2017
9:30 a.m.
Memorial Day Weekend - Labor Day Weekend
Sunday 8:00 am and 10:00 am

September - November 20, 2016
Sunday 8:00 am and 10:30 am
---



50th ANNIVERSARY
May 22, 2016.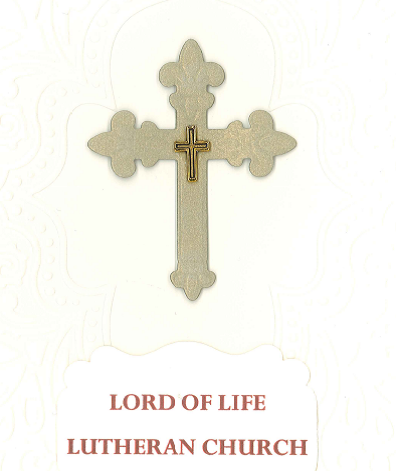 HIGHLIGHTS
~HANGING OF THE GREENS
Saturday, December 10, 5:00 pm
Join us to decorate the Christmas Tree, Sanctuary, and Fellowship Hall

~WEDNESDAYS IN ADVENT
Soup Luncheon, 11:30 am
Advent Worship, 12:30 pm
Advent Evening Prayer, 7:00 pm

~THURSDAY MORNING BIBLE STUDY
Bible study group meets each Thursday morning at 10:00 a.m.
Join us for lively discussion.
~MEN'S FELLOWSHIP BREAKFAST
The next Men's Fellowship Breakfast is January 7, 9:00 a.m.
Copyright © 2017 Lord of Life Lutheran Church. All Rights Reserved.
Church Websites by Finalweb