Worship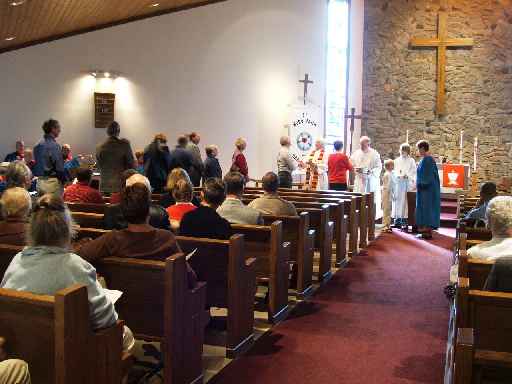 One of the most fundamental and important aspects of our worship is in sharing the body and blood of our savior through communion with him and one another. At our church we practice open communion, which is to say that all are welcome at the Lord's table regardless of membership status or age. It was once held that only those properly instructed and able to comprehend the full meaning of the Eucharist could participate. However, today we realize the mystery of God's sacrifice exceeds everyone's ability to fully understand. Our enlightened belief is that Jesus meets us in communion wherever we happen to be on our spiritual journey.
We celebrate Holy Communion at both Sunday services, every week. In those months containing five Sundays, first and second service are combined into one 9:30 service of "Healing".
What We Believe
We believe that we are saved by grace; that through no effort or action of our own we have been forever reconciled to God and made worthy of his forgiveness and life everlasting through his death on the cross. We worship Christ, serve one another and share the good news as an expression of our thanksgiving.
Prayer Requests Form
Copyright © 2021 Lord of Life Lutheran Church. All Rights Reserved.
Church Websites by Finalweb